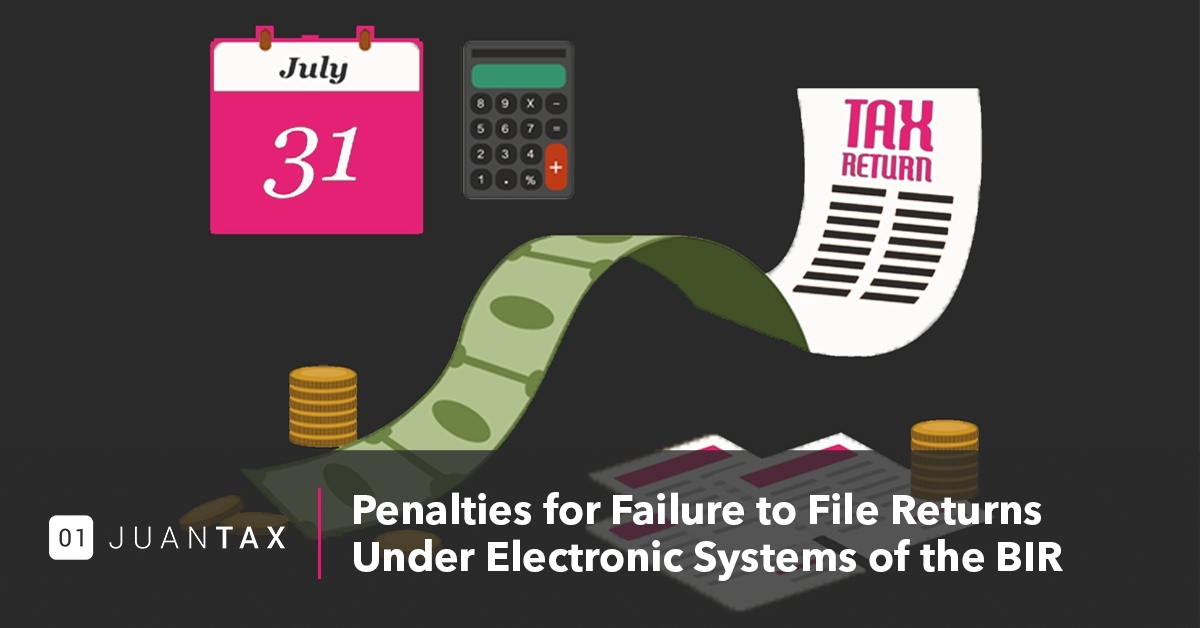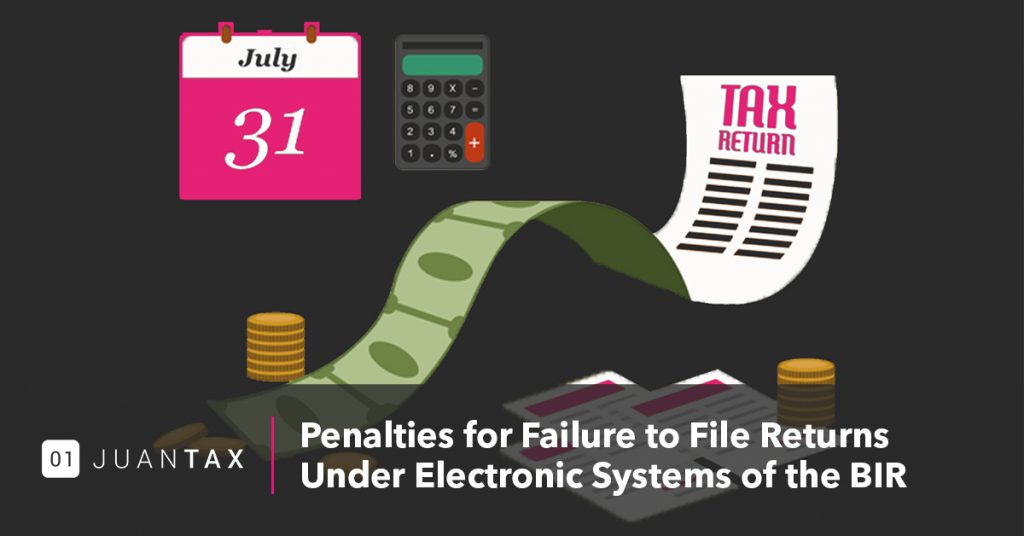 Being diligent in remembering tax compliance dates and learning the latest updates on tax return filing is the key to avoid further penalties imposed by the BIR for late filing of returns. However, some unforeseen cases may lead you to filing your tax returns post the deadline period. Check out everything you have to know about BIR and penalties below:
How much does the late payment cost?
The BIR charges additional fees for late filing of income tax. Both eFPS & eBIR taxpayers are imposed a penalty interest rate of 20% per annum or higher prescribed by the rules and regulations until the full amount is duly paid in pursuant to NIRC SEC. 249. Failure to pay the fine will lead to an imposed criminal penalty of a fine not less than Php 10,000 and imprisonment of not less than one year but not more than 10 years.
If you end up getting penalized by the Bureau of Internal Revenue, there are some compromises in place to ease your imposed penalties.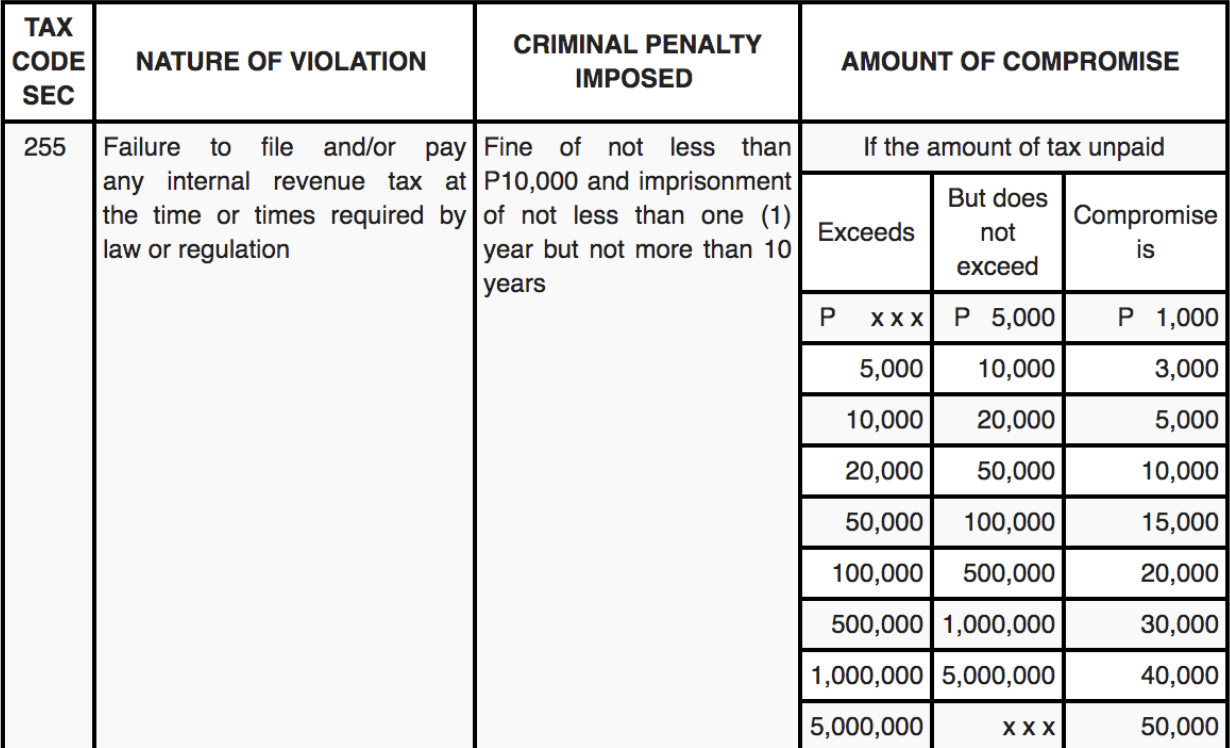 Source: bir.gov.ph
In certain instances that you are filing late for a "Tax Return with NO Tax Due" to be paid, you will be following the chart below for the list of penalty and compromise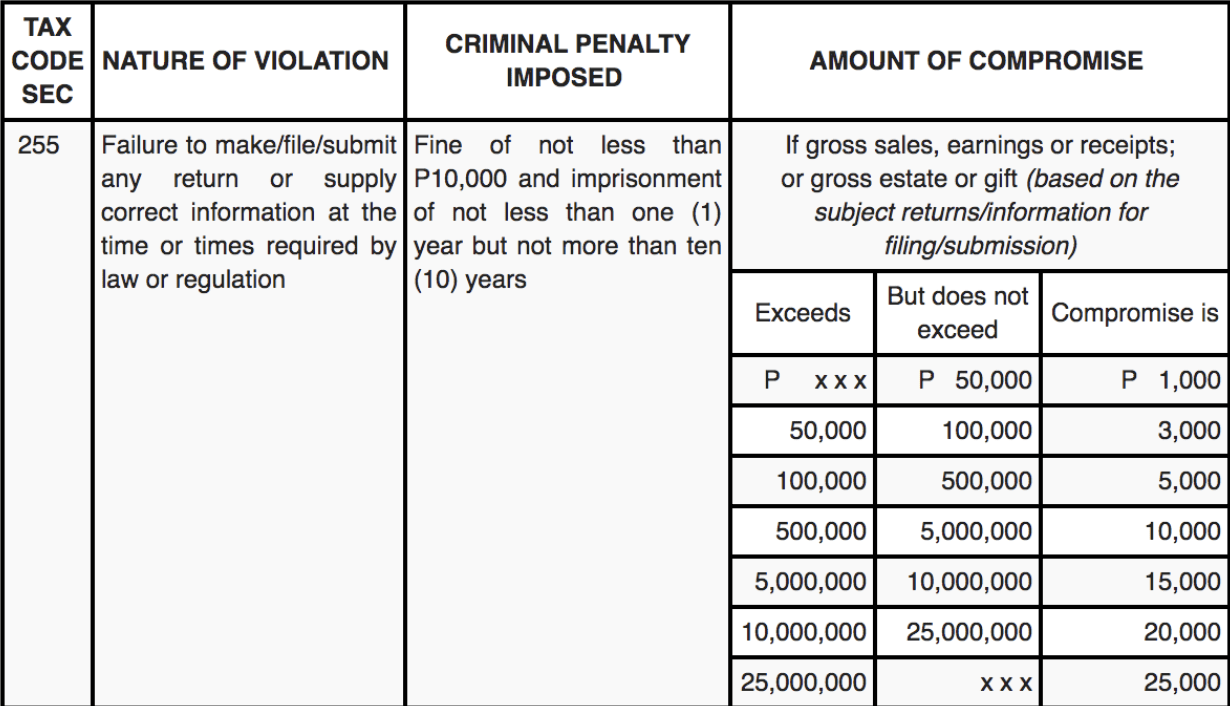 Source: bir.gov.ph
What is the reference date used for Penalty Calculation?
If a transaction requires a payment, penalty calculation be based from the date when the tax return was successfully processed. On the other hand, transactions with no payment required will follow the date of e-filing as the reference date for penalty calculation. Keep in mind that during instances that a dispute is filed, the final copy of the return in file extension xml viewable on the electronic platform of the BIR will prevail.
What is the cut-off time when filing returns?
Be wary of the right timing when filing your returns. The system is available 24 hours everyday but filing must be done and submitted by 10:00 PM (Philippine standard time) to give the BIR ample time to send back an email acknowledging your returns. Skip through these when you file through JuanTax. Get assured of a cloud based system running with no downtime.
How do I know that penalties will be imposed on me?
You will know that penalties will be imposed upon you given the following grounds:
1. You realize that you missed out on the deadline
2. BIR conducts an audit
3. For eFPS, a system message will be displayed on the screen with an amount of penalties computed.
4. You filed your returns incorrectly
5. Filing a return with an internal revenue officer other than those with whom the return is required to be filed unless authorized by the Commissioner
6. Failure to pay the deficiency tax within the time prescribed for payment
What happens if I manually file my returns but was required to go through e-filing?
Always follow BIR mandated procedures, going through manual filing of returns when mandated to file electronically shall be penalized under RR 5-2015. Manual filing is allowable for senior citizens, PWD, and special instances only.
What happens if I missed out on the deadline because of a system issue?
Your penalty will be reversed if you were not able to file your returns due to a technical issue on the system. This is only applicable when a revenue memorandum circular or an advisory on systems unavailability is released by BIR.
Get the latest updates on new BIR announcements. Follow JuanTax on facebook or sign up here.