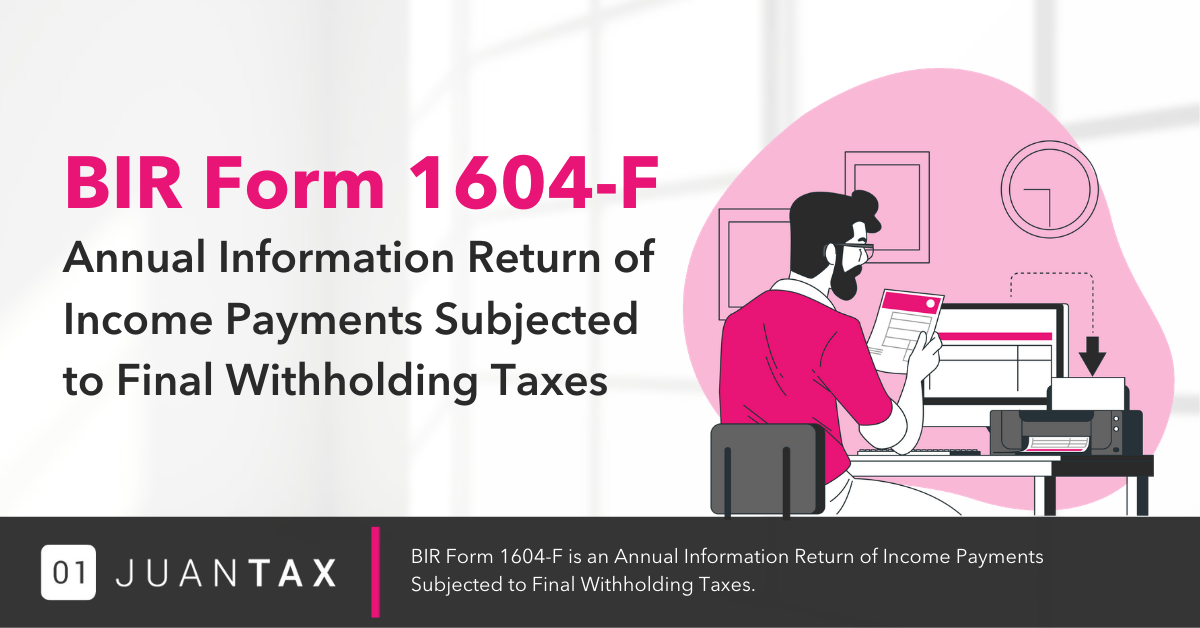 What You Need To Know
A significant change had occurred in early 2018 where tax authorities had issued a Revenue Regulation (RR) No. 11-2018 which amended certain provisions of RR No. 2-98 and implemented new amendments introduced by the Tax Reform for Acceleration and Inclusion (TRAIN) Law in relation to withholding taxes. One such repercussion of this had been the splitting of BIR Form 1604-CF into BIR Form 1604-C and 1604-F. 
BIR Form 1604-F is an Annual Information Return of Income Payments Subjected to Final Withholding Taxes. This form needs to be filed by every Withholding Agent/payor required to deduct and withhold taxes on income payments subject to Final Withholding Tax.
Documents Required
This form must be filed on or before the 31st of January of the year following the calendar year in which the final withholding taxes were accrued or paid. 
For example: BIR Form 1604-F relating to the year 2020, must be filed by 31 January, 2021
Along with the form you'll need to attach some documentation. These documents are the alpha-list of Employees, alpha-list of Employees Other than Rank & File Who Were Given Fringe Benefits During the year and alpha-list of Other Payees Whose Income are Exempt from Withholding Tax but Subject to Income Tax.
Got Everything? Our turn! 
At JuanTax we do it all for you!  All you need to do is either enter a transaction or upload a sample transaction just once. When we have all the information required from you, every form from here on out can be automated for you! We can even file the forms electronically on your behalf! 
Manually having to keep track of forms and filling them out can be tiresome and time-consuming. The law still requires that you follow up with it, but that's where we come in. We keep you up-to-date on forms to be submitted in the future, fill up the forms on your behalf and before you know it, all you have to do is file the form yourself. It really is that easy.