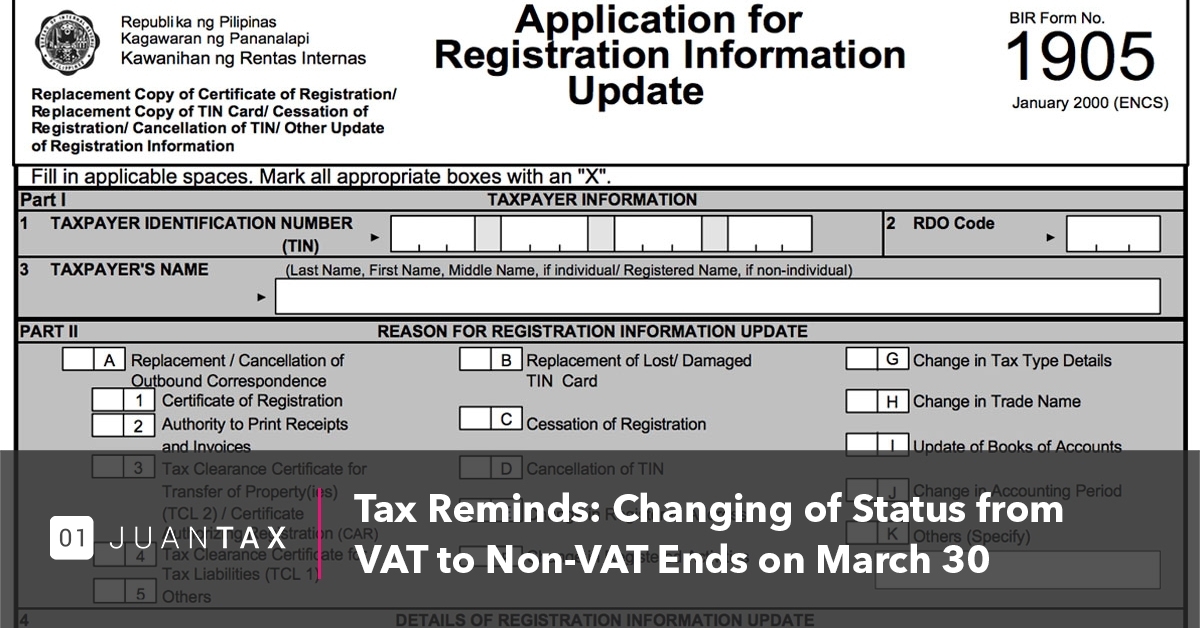 March 20, 2018 — Wednesday — The deadline for changing of status from VAT to Non-VAT was moved from March 31 to March 30 (Friday).
In Case You've Missed It
As mentioned in a tax advisory sent out by the BIR (Bureau of internal Revenue), self-employed individuals and/or professionals with gross sales/receipts not exceeding the new VAT threshold of 3,000,000.00 PHP can avail for an 8% tax on gross sales/receipts in excess of 250,000 PHP, and that they now have the option to change their status from VAT to Non-VAT.
How to Change Status
Taxpayers can change their status by filing BIR Form 1905 or also known as Application for Registration Information Update to their designated RDO (Revenue District Office).
Deadline and Consequences
The deadline for submission of application was supposedly on or before March 31, 2018 (Saturday), but due to the fact that the deadline was set on a weekend, the BIR decided to change its effective date to March 30 (Friday), unless they would consider March 31 as a working day.
If you would not be able to update your status within that deadline, you would still remain as a taxpayer covered by the 12% VAT.