Learn more about MFA and how it keeps your credentials and your data safe. Follow the easy tips below to establish a secure account and keep your online life more protected.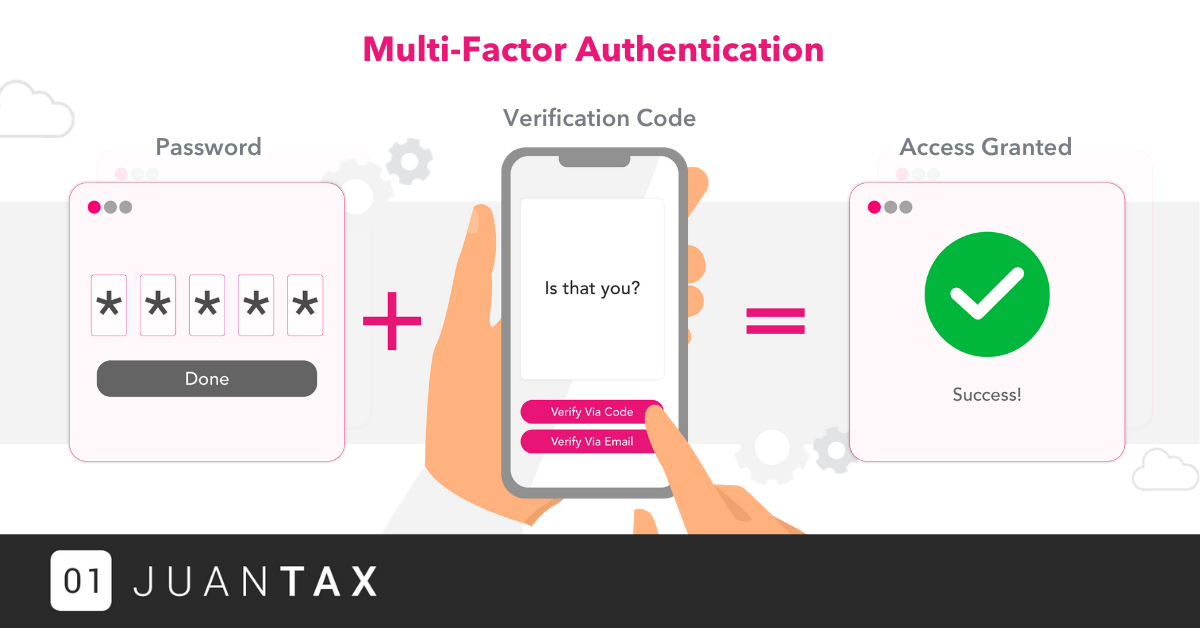 What is Multi-Factor Authentication (MFA)?
Multi-Factor Authentication (MFA) is an online authentication method wherein the user is required to confirm their identity using two or more authentication methods or providing verification factors to gain access to an online account or application. MFA protects the user from an unknown person trying to access their data. 
For example, entering a password to gain access + a one-time password (OTP), or an authenticator app + the answer to security questions.
A multi-factor authentication method usually has 3 categories:
Something you know.

Username, password, personal identification number (PIN), an answer to a security question

Something you have.

OTP, token, trusted device with OTP apps, and SIM cards

Something you are.

Scans of either of the following: retina, iris, fingerprint, handprint, or other biometric. This also includes facial recognition, voice recognition, etc.
5 Ways to Secure Online Information Further:
Keeping your software up to date.

Updates help patch security flaws to keep hackers out and help protect your data from cyber threats.

Don't share your login details with anyone.

Two of the biggest security risks are

shared accounts

and

insecure passwords

. You can invite others into your organization but requiring them to have their own separate login and setting up their MFA is a MUST.

Use strong, unique, uncrackable passwords.

The more complex and longer your password is, the harder it will be to guess the correct combination of characters based on your social media presence. 

Don't use the same password for everything.

There are many opportunities for your single password to be discovered. If you use the same password for all your accounts, this event highly increases the risk of all your accounts being compromised or vulnerable to hacking.

Enable MFA on all your online accounts.

Doing so only takes a couple of minutes compared to months of restoring your personal and financial records after jeopardizing your online information. 
Multi-Factor Authentication Methods Used by JuanTax:
One-time password (OTP)

-This is an automatically generated set of numbers that authenticates a user for a single sign-in ONLY. You can choose to receive your 6-digit PIN via your registered email or mobile number. After choosing, the code will be sent to you right away.

Authentication App

– Simply type in the six-digit security code that's automatically generated on your device to log in to your JuanTax account.

Security questions

– This is an alternative way of identifying our users when they have:
Forgotten their password 

Did not receive their OTP

The installed authenticator is not working

Entered the wrong credentials too many times

Tried logging in from an unfamiliar device or location
JuanTax's MFA can help protect your devices and your identity, and it is most valuable if you know how to use it properly. Read more about MFA in JuanTax.
Add an extra level of protection to your JuanTax account! Start by setting up MFA, today.